CO-FOUNDER AND IMAM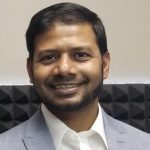 Professor Munshi Shams is a Co-founder and the Imam of Al Ansar Society.
Munshi Shams is a Bangladeshi-American educator, entrepreneur and humanitarian widely known for his passionate contribution on communal harmony, spiritual healing, universal human rights and non-violent activism. His early education and career were in the field of Information Technology. While advancing in his career as a Network Engineer, Munshi started his own company in the computer industry and within a few years established himself as a successful entrepreneur. Munshi earned his master's degree in cybersecurity from Western Governor's University (WGU) and is currently teaching as a faculty of cybersecurity at Dallas College, Richland Campus.
Though an IT engineer by profession, Munshi chose the major for his Bachelor's degree outside of the IT industry.  He studied International Political Economy at University of Texas at Dallas and graduated with Magna Cum Laude honors. Through his writings, speeches and multimedia productions, Munshi has been promoting spiritual harmony and healing, interreligious friendship and peaceful activism. At the same time, he has committed himself to explain the true message of Islam to all of humanity.  He frequently leads Friday congregational prayers and delivers sermons at surrounding Mosques, and explains Islam at universities, other religious institutions and multi-faith assemblies. 
With the dream of rendering kindness and justice to every human and peace to every community, Professor Munshi founded Studio Humanity, which broadcasts several inspirational programs to the world.  Call 4 Humanity (call4humanity.org) promotes that every human must be treated with fairness, respect and love regardless of who he or she may be. Islam 4 humanity(islam4humanity.org) is dedicated to share the true and authentic teachings of Islam with both Muslims and Non-Muslims. নব জাগরণ  (nobojagoron.org) aims to inspire Bangladeshi population worldwide to bring about a 21st century enlightenment and renaissance of human values
Together with wife Martha, Munshi founded a heart-warming place of worship, Al Ansar Society. Its mission is to "Support those who Enter Islam, Build Bridges across all faiths and Serve the needs of the Community in the Best possible way." Al Ansar is an exceptionally friendly place where everyone is treated as a brother or sister regardless of who they are.
You can connect with Professor Munshi Shams via the web, Facebook, Twitter or You Tube:
Call 4 humanity (www.call4humanity.org): Email: mail.call4humanity.org, Facebook: Call 4 humanity, Twitter: @mycall4humanity
Islam 4 humanity (www.islam4humanity.org): Email: mail.islam4humanity.org, Facebook: Islam 4 humanity, Twitter: @myislam4humanityনব জাগরণ (www.nobojagoron.org): Email: mail.nobojagoron.org, Facebook: Nobo Jagoron, Twitter: @mynobojagoron